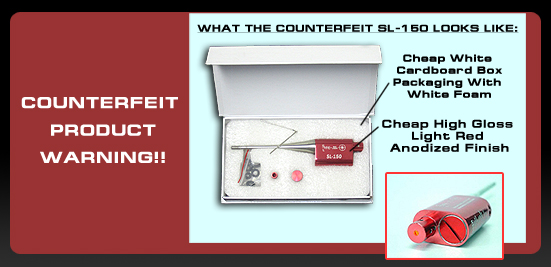 Airsoft Club, a company in Hong Kong, China, is in violation of our US Trademarks and Patents on a COUNTERFEIT SL-150 Laser Boresighter being sold online.
The counterfeit SL-150, at first glance, appears to be authentic. They have even produced exact copies our instructions.  However, the laser is not aligned and many components are missing.
COUNTERFEIT models can be spotted by the anodized finish. They are lighter red and have a High Gloss Finish (not a Darker Red, Satin Finish) (See pictures above) The low price and the white cardboard box should be ample warning.
BE WARNED - BEWARE.  
When you purchase any SiteLite Laser Boresighter model *anywhere online, make sure the boresighter is only sold by one of the distributors below: 
Concept Development Corp.
Concept Development Corp
BassPro
Cabela's
Chatanooga Shooting Supply
Brownell's
Natches Shooting Supply
MidwayUSA
Sportsman's Warehouse
Sportsman's Guide
Amazon.com
* We also do not recommend that used SiteLite Boresighters be purchased. Typically, we have found that used boresighters are sold because they are defective due to internal damage and the cost to repair is prohibitive. Second-hand Boresighters sold by third parties are also not covered under the SiteLite Unconditional Lifetime Warranty.